---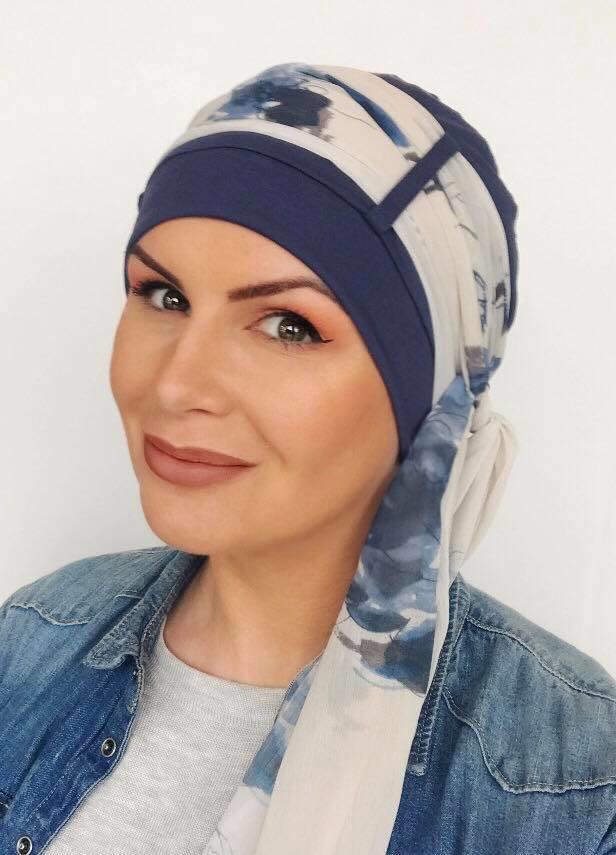 New Two look Catherine Headscarf
---
---
Our new updated Catherine scarf set allows you to create two looks to make it even more versatile. In each set you will get one base hat, two scarves with different patterns and elastics for styling.
If you are going to purchase one headscarf this year, make it this one! This is a general all round scarf perfect for any time of year and will suit any outfit. The hat is similar to the voluminous hat, it provides additional volume around the head to avoid that flat look we all try to get away from. The hat is made from bamboo which is ultra soft against the scalp. The scarf is stitched to the hat at the back which will ensure there are no slippage issues with tying. The scarf can be tied to the left or the right side. It can be left to hang at the sisde or the back. It can be bowed as you can see in picture. It can also be bunned, you can see in the image i have bunned this to the front of the head, but again it can be done also at the side or the back. I have made a simple bun and wrapped a transparent elastic band over this to hold it in place and secure. You will be sent these little hair elastics when you purchase the scarf and believe me when i say they are worth their weight in gold. This comes in many different colour combinations which you can see when you click on the colour options.
Elaine Bushby
Got this head cap with scarf for my mum. She is a very pale irish women and she ended up choosing this colour option herself as she felt the colour would go with most of her wardrobe and wouldn't make her looked washed out (like some of the paler pinky base tones I was going towards). I have to say it looks lovely on (compared to some other options out there!) and seems comfortable. Highly recommended. Delivery in Northern Ireland very quick also. Thanks Ciara!
David Wheeler
My friend was really pleased and loves it.
---
---
This website is Copyright 2017. All Rights Reserved.
The item has been added to your basket